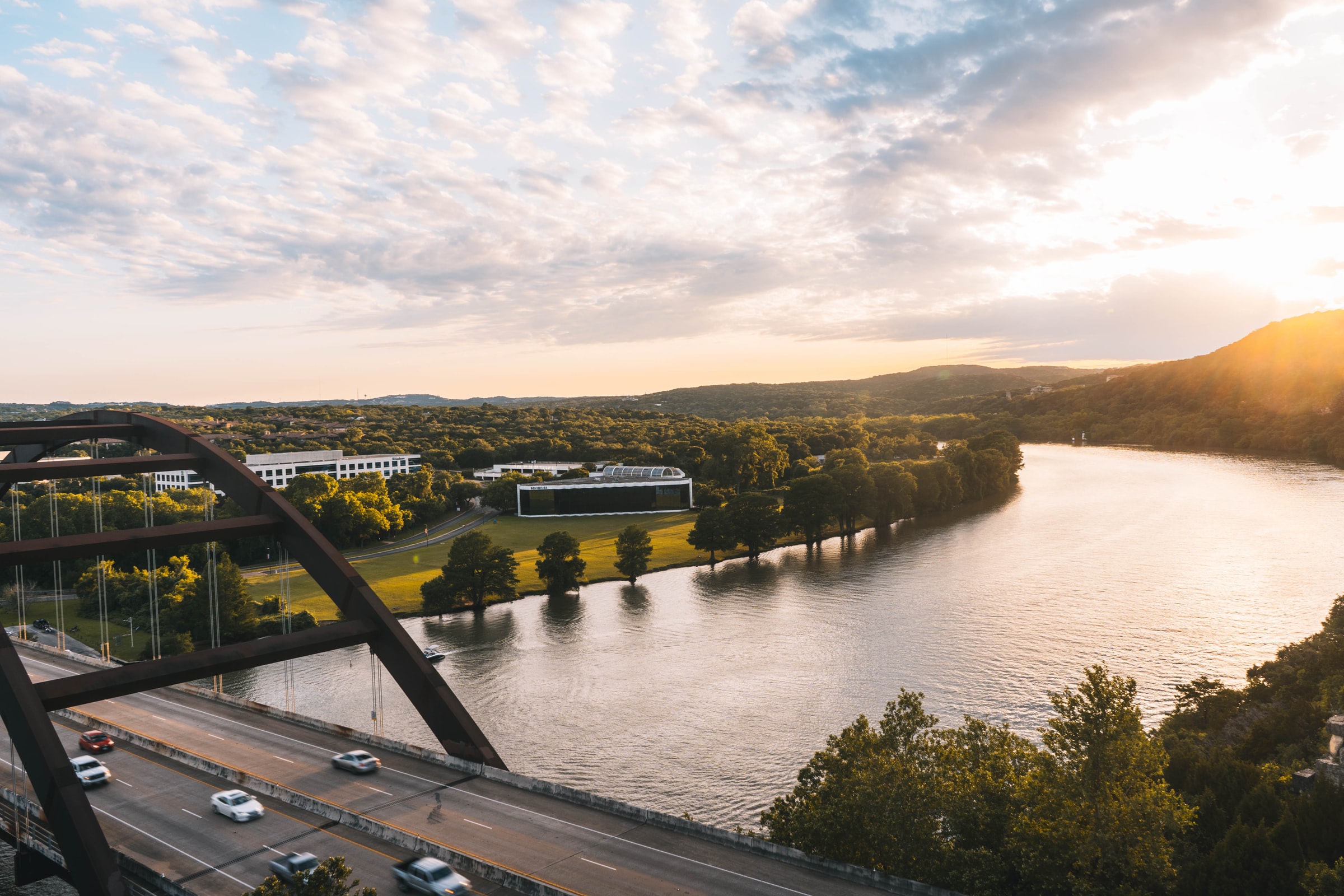 About Us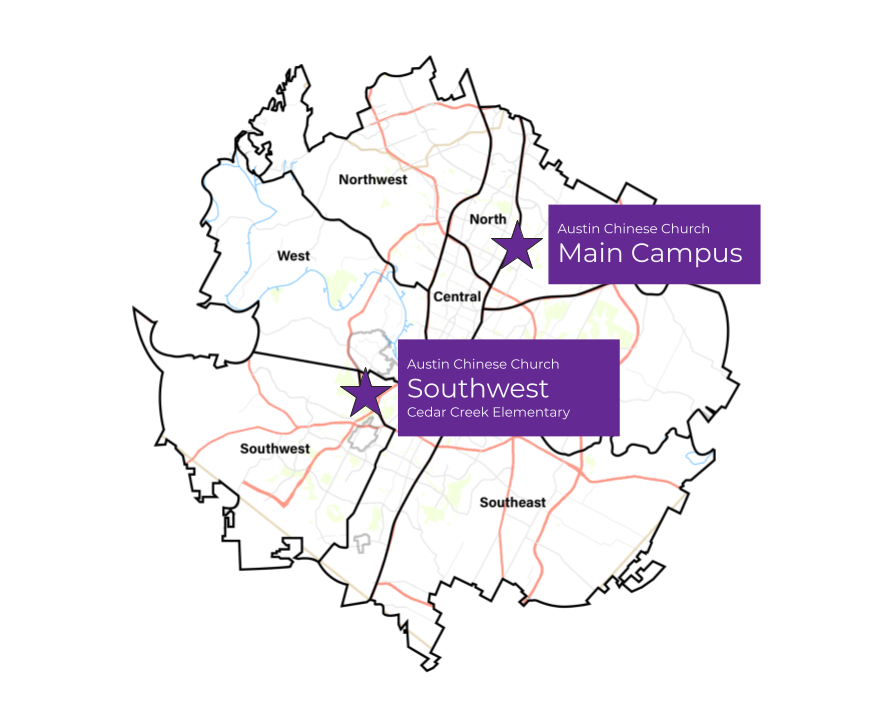 With the desire of reaching more English-speaking and Chinese-speaking people living in the southwestern area of Greater Austin, Austin Chinese Church is using Cedar Creek Elementary School to have an additional site for Sunday worship. ACC SW is part of Austin Chinese Church (ACC). A great majority of our participants are ACC members and continue to be closely connected to ACC. Many of ACC's fellowships and home groups have some members who attend Sunday worship at ACC's Main Campus while some other members attend Sunday worship here at ACC SW.
Right now, ACC SW offers only one Chinese/English bilingual Sunday worship, but our hope is that as our number grows, we can eventually have two separate worship services, one in Chinese and one in English.
We look forward to having you join us.
— Pastor Tony Hsu
Our Mission
ACC's mission is to make disciples of Jesus Christ by sharing His good news with all people, especially with those of Chinese descent, and helping them grow as followers of Christ, so that together we will bear witness of His glory in Austin, in the surrounding areas, and to the ends of the earth.
Our Statement of Faith
We believe in the one and only true God, Creator of all universe, eternally existent in three persons: Father, Son, and Holy Spirit.
We believe in Jesus Christ, the Only Begotten Son of God, Conceived of the Holy Spirit and born of the Virgin Mary. He suffered under the hand of Pontius Pilate, died on the cross, buried, descended into Hades and was raised bodily from the dead on the third day. He ascended to the right hand of the Father. He will return personally to judge the living and the dead.
We believe in the Holy Spirit, the Counselor, who convicts and regenerates the repentant sinners, and indwells, illuminates and empowers the believers to manifest their faith in action, attaining a sanctified life.
We believe the sixty-six books of the Holy Bible, both the Old and New Testaments, to be the inspired word of God, consistent in truth and inerrant, the divine and final authority for all Christian faith and life.
We believe that man was created in the image of God, had a glorious position originally, that he sinned and was depraved. As a sinner, man is in need of God's grace for regeneration and can only be justified through faith in Jesus Christ alone.
We believe that there shall be a bodily resurrection of the just to eternal life, and of the unjust to eternal punishment.
We believe that the Church is built by Jesus Christ. The Church is His body, consisting of those regenerated by the Spirit of God and of which Jesus is the Head, and the purpose of the Church is to be Christ's witness on earth.
Our Core Values
God-Centered Worship
We believe that the triune God – the Father, the Son Jesus Christ, and the Holy Spirit – is supreme and sovereign. He is the focus of our individual and corporate worship in praises, prayers and the preaching and teaching of God's Word. We believe that prayer is essential in order to sustain a close relationship with God, and it must be the foundation of all our ministries. Therefore, we are committed to building up ACC as a house of prayer. (Psalm 150; Isaiah 56:7)
Biblical Teaching
We believe that God's Word is the catalyst for spiritual transformation and growth. The Bible is the highest authoritative guide for what we believe and how we should live. We are committed to teaching and upholding the Bible, and we pledge to avoid misinterpreting, truncating, adjusting or in any other way modifying Biblical truth, which was once and for all delivered to people in God's Word. (2 Timothy 3:16)
Transformed Disciples
We believe that every Christian must continually grow and be transformed as a disciple of Christ through the application of God's Word, obedience to the Holy Spirit, and faithful service to the Lord. We are committed to making disciples who will make disciples. (Ephesians 4:1-3; 15-16)
Spiritually Healthy Families
We believe that spiritually healthy families are the foundation of a united church. We are committed to building God-centered families whose members love one another, following the example of Christ. (Colossians. 3:18-21; Ephesians 5:21-6:1- 4)
Authentic Fellowship
We believe in vibrant and authentic fellowship in which we care for and love one another sacrificially, as we build up the body of Christ. (Acts 2:42-47; John 13:34-35)
Local & Global Missions
We value a lifestyle of sharing the love of God both locally and globally by spreading His Good News through evangelism, missions, and community caring and service. We believe that every Christian is called to be an ambassador for Christ. (Matthew 28:19-20; Acts 1:8; 2 Corinthians 5:20)
Unity Embracing Diversity
We believe that it is essential and effective for believers to seek, discern, and obey the Lord's will as a community. We are committed to unity embracing diversity in a multilingual, multicultural and multigenerational ministry within our multi-congregational church. We value honest communication and mutual respect so that God will be glorified and our church will flourish. (Ephesians 4:11-13,15; Galatians 3:28; 1 Corinthians 12:12)
Leadership Team
Our initial leadership team consists of people from ACC's Cantonese Congregation, English Congregation, and Mandarin Congregation. Several ACC elders and pastors are on the team or serving as advisors. Pastor Tony Hsu (ACC's Mandarin Pastor) is leading the team. His email address is: tonyhsu@austinchinesechurch.org


Mobilization / Servant Team
Worship Service Logistics
Advisors